After five years calling this apartment home, it is bittersweet to finally admit to myself that I am really actually moving. Not leaving Los Angeles or anything, so this isn't that dramatic of a move, but I've never been good with change.
My parents still live in the house I grew up in, I think I'd be so sad and devastated if they ever decided to move. I don't know if everybody feels so rooted by the place they live, I might be a baby (most likely am). I kind of treated this apartment as an extension of myself in terms of the way we used and loved it.
To me, to have a place is to have something that you can extend and offer to others too. So appreciative of friends who came by over the years to stay over while passing through town, visiting us, or who warmed up and brought energy to the place with frequent dinners, brunches, grill sessions, and more. ~The things you have are only important if you have people to share with.~
The place evolved over the past five years. It has stacks on stacks of clutter, overflowing closets, and piles in places there should be walkways. But having a tidy and organized place was never the most important thing. My favorite compliment (or…comment really) was when somebody came over for the first time, they said that the place felt "cozy" and "lived-in" which yes, I realize is code for "cluttered" and "cramped." The bookshelves are overflowing with little things we've collected or been gifted over the years. Everywhere we look we see love from family and friends, references to occasions and events, and lots of dog toys that neither dog will ever touch.
I'm a little embarrassed to be writing this love-letter-type thing to an apartment. But I guess I'm feeling sensitive, and it never really is about the building itself but rather the memories and feelings you leave behind.
So here's just a little post with each room untouched before we started boxing things up, a visual diary to this 2 bedroom, 1 bath place in Los Angeles. Here it is in all its dirty, messy, cluttered, colorful, layered, loved glory.
KITCHEN

I remember hunting on craigslist for a table that would actually fit in that tiny nook space. At the time, were so concerned about the table blocking the sliding door to the tiny balcony, but now we never use it.

I'm sure to an outside eye it looks like there's just crap everywhere. You wouldn't be wrong to say that, but when you're out of storage space you have to improvise.

When our fridge broke a year ago or so we were so excited to get one that was metallic so we could put more personal junk on it! My two favorite things: a menu from a fun dining experience we had in Bangkok, Thailand in 2017, and the photo of Zach before his first marathon.

So yes we have an adopted yeti head, I remember being so torn if we should buy him or not at Anime Expo a few years ago. He's been a great kitchen addition.

Having a washer and dryer was a true blessing, and a great way to lure your friends to come hang out with you so they can do their laundry.

We cleaned so much dog pee off that kitchen floor. That is their indoor accident place of choice. And one more thing I won't miss? The older oven that wouldn't accurately heat up to the indicated temperature. Caused many a burnt thing.
LIVING ROOM

A lot of the furniture came together from Zach's life and my life before we lived together, so I remember working a lot on arranging and rearranging everything every few weeks until I was happy with the layout.

All the paint you see on the walls we got to pick out when we moved. For some reason, five years ago, that was a big deal to me. I wanted the freedom to choose my wall color. Here's a little collection of fair-related prizes.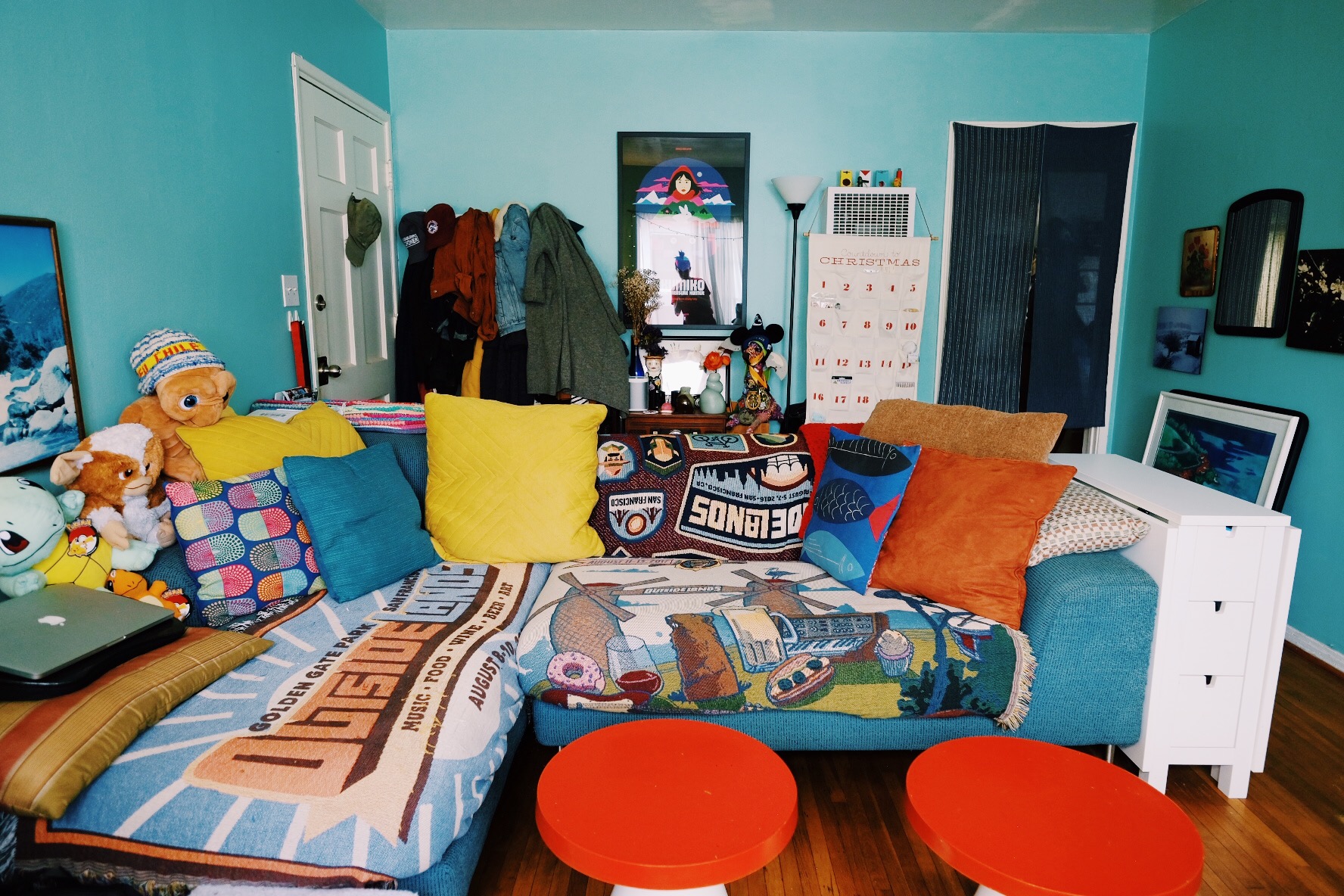 Our chaotic little living room. I love it. We had to add on these Outsidelands blankets after one too many dog vomit incidents. I remember picking up this couch from a French couple who was leaving the US, they were selling the couch and red chair on Craigslist for like $200. When we finally bought that white end table from IKEA that folds out into a table, that was another level in the functionality of this room. And no, we never took down our advent calendar from Christmas 2017.

As you can probably tell, all of these items are from Goodwill. We stood in the store laying everything out on the floor of the paintings and art section before we purchased. Not sure how I feel about it now, but it would feel weird to have anything else on that wall.

At one point the couch was oriented with the long side where the red chair faces. It was really helpful when I moved the couch because then the kitchen didn't feel so blocked off from the living room (plus it was easier to move food since we used the living room to eat too). Layout man, it matters. It's hard to get right.

Here's the tornado zone with the shoe rack and coat rack, both overstuffed. I also have a landing zone for bags and backpacks, and that is always a mess. This represents the chaos that is my reality. Here's a really good pic of the Countdown to Christmas calendar.
HALLWAY

We made a bold choice with that red strip. But why not. Those black and white photos really pop. This area was once a hallway that has evolved into an overflowing storage space for our extra chairs, dog kennel, Zach's running shoes, and extra board games.

Ever since Zach quit smoking, his mom has sent him cigarette-related artwork with each passing non-smoking anniversary. So a lot of it has ended up this space, including this carved wood carton of American Spirit.
WORKROOM

When we moved here I was so excited to have a "studio" space to work on whatever creative projects I wanted. I was still pretty fresh out of art school and thought that to be a creative productive person, I needed a space. I think that is true, but seeing the ways I express my creativity now are a little different than my goals five years ago when we moved.

After working on Marie's short film set, she gave me this mirror she bought as part of the set design. Very grateful for that. The corner pile of blankets is where we keep guest sheets and pillows. At one time I thought I might use that chair to read. Never really did.

I remember a day where I was so fed up at the lack of cupboards and drawers that could be closed to disguise and cover clutter. We went to Ikea and bought a few things for this space. It is still really cluttered and stuffed with visual stimuli (and crap) but I liked that insight into furniture design and functionality. That said, I still have crap everywhere, but it was way worse before.

I love this shelf so much. Zach had it cut, stained, and picked out the copper plating. He installed it for my birthday I think. It's just…a beautiful shelf and I love it.

This view you can see Zach's makeshift sound studio where he does some voiceover recording and other work at his desktop.
BEDROOM

The room was totally different when we first moved in. The bed was faced with the back to the wall under the projector. We had other end tables, and a wider dresser. But we were gifted this king size mattress when Zach's family moved out of a house in Dana Point, and to accommodate we had to get rid of our end tables, dresser, and quickly craigslist a bed frame to have it all fit.

The huge painting also came from the Dana Point house. I had no idea where it would fit or go and it is a little ridiculous on that wall, but just ridiculous enough for me.

That dresser DIY was a fun lesson in just waiting for paint to dry. Seriously, took a few coats and it took a while.
Thank you apartment, for keeping us safe and warm and tricking us into thinking that five years hadn't flown by.
__
Also to clarify, I'm not moving out officially till end of October, but the place is certainly starting to shift and more of my activities are becoming moving related so just wanted to rip the band-aid off and admit to my digital world that change is coming. We are lucky to do a slow move, trickling things in here and there. But any moving tips you have, I'd be grateful to hear.
Much love friends.