MY WEEK IN PHOTOS: MAY 16-22, 2016!

I documented a day for work, took my little cousins back to Disneyland for their first Space Mountain experience, prepared for a 10 day documentary shoot in Utah, and made too much coconut curry.
Enjoy!
(Apologies for the late posting, I've been in Utah on set for the past 10 days or so, the wifi has been spotty!)

Starting off the week with happy cheeks and a new eyebrow pencil.

I got to work early to follow around a librarian in the Research Institute. Basically, I did an ADIML but for work! Pretty neat.

Her at work, me sneaking an iphone photo.

Trying to be good about bringing lunches these days.

Holly the librarian showed me this awesome rooftop view where she takes her afternoon coffee breaks.

Derpin' from my new phone holder thinggy in the car

The best way to cook dinner is with SVU by your side

Attempting an "easy" coconut curry recipe

Complete with coconut quinoa

Yum! Pretty good! The curry is pretty thin, I guess it makes sense it took about 45 minutes to make in total, but pretty flavorful!

Cheeks are acting up…*great* but at least my new fav co-worker and I have matching cups.

Tristy on the job

Leftover lunch!

Tristy and I are hosting a Snapchat picnic at work, so I had to get the perfect invite picture.

Me shootin' stuff for a blogpost about Millennials and museums

New neighbors, new dog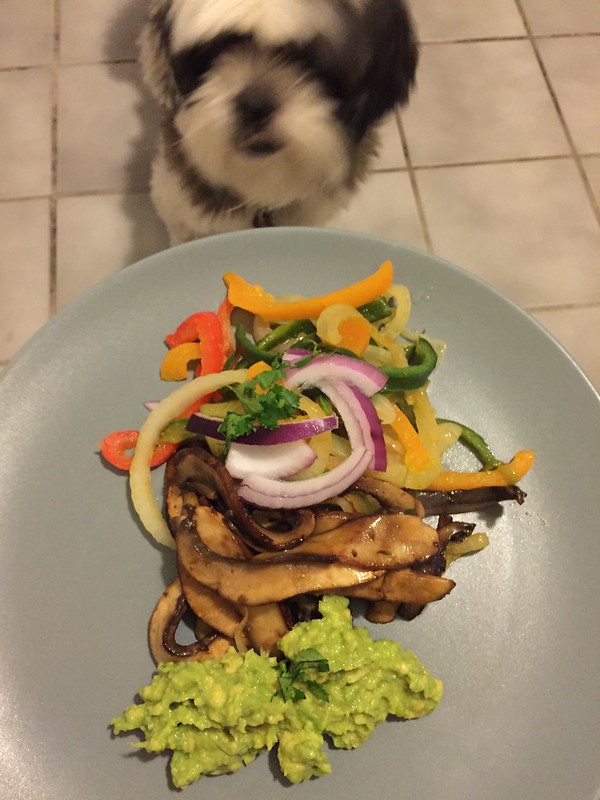 Mushroom "fajitas"!

Wednesday morning, off early to an acupuncture appointment

Whenever I'm all gray I feel like Totoro

My skiiiin whyyyyy it was doing so well

Post-needles! Feeling weird and good.

My herbs

Tryna feel cute. Zeen says my face will respond to my heart feeling beautiful and cute.

The weather has been nice and grey

Quickie groceries

Fast pesto pasta (pesto from a jar was a big fat BOO…)

Derpy allergy face (Kiki helped me re-dye my hair)

Fries as a treat at lunch along with some pocky and pretz treats dropped off by a grad intern on her last day

Pink cheeks bein' me!!!

Still more leftover curry!

Ahahah, bandaged up with neosporin underneath. When the cheeks get infected feeling it's time to cover up.

Loaded Tweedy and Sufi in the car

Woke up on the couch in South Pas, my fav place to be.

Both dogs taking turns sitting on me

Dad entertaining Sufi

And the pups following him around the house.

Today I'm taking my lil' cousins back to Disneyland since the littler one is now 40 inches tall (which means getting to ride Thunder Mountain, Space Mountain, Star Tours, and Splash Mountain!)

Took some bribing with cotton candy, but they both conquered Splash!

The best tots

Eating ribs

Both rode Space Mountain with no issues! No crying or anything. They loved it!

Cotton candy rewards

Zach wishing on the star (in the middle in front of the castle) that his documentary shoot will go well.

And then we got to see baby ducklings!!!

Everybody try this. Get the tajin packets available where you buy mango and add it to the dole whip. SO GOOD.

Taking the monorail to Downtown Disney

Cuties

Walked into the Disney store…saw these Star Wars tsum tsums and splurged.

Views from the parking lot

My mom sent me home like this… 🙂

The next morning we were up and off to meet the film crew at Zach's aunt's house in the Valley. Basically, for the last few months I've been helping Zach get this documentary project about his Nana, her 90th birthday, and his Mormon family in Utah off the ground. He hired a producer/cameraman, then a second camera man, and a sound guy…and we are off to Utah for 10 days.

First we headed to the Valley to interview his mom's oldest sibling. The man was to interview all 7 siblings plus his grandparents and to capture the feelings, thoughts, and festivities around the 90th b-day.

We brought a tambourine but never got to use it

Attempting to heal face as much as possible since I'll be in the documentary during parts.

Me mixed with Rachel…ehheh

We met up with the crew and got everything into 7 checked bags, plus our individual carry ons.

LAX!

And we're off! Somehow we ended up in first class, look at all the leg room!

We took off during the most beautiful sunset

Ry Ry capturing the view

Eye-level with the moon while the sun set in the opposite window

We made it to Utah late on Saturday

Pop tarts in the morn

Day 2 of shooting, first day in Utah!

Somehow there is still snow on the ground.

Out in Midway, to shoot with Zach's youngest aunt.

Crew gettin' set and it starts to hail

Look how HUGE these hail balls are!

Sweet pup that looks like a female version of Kiki's Leo

I went on a grocery run while the crew checked into our motel.

By the time I got back, everybody was sufficiently sketched out. I guess people (who appeared to be on something) were loitering around the car, checking out the equipment, asking about who we were etc. etc. and more were coming out of rooms, driving up, etc.

We didn't want to leave the equipment there, and didn't feel safe so made the last minute decision to check out and stay at the family lodge.
I just have to add the ONE yelp review this motel has…which we stupidly checked after the fact:
The is by far the worst hotel I have ever stayed at. First off we were charged extra for checking in late. Once we got in the room we found the following, black stain in floor, fist size blood stain on comforter, mold and bugs in bathroom, a large strange orange stain on the wall as well as what appeared to be a baby foot print on the wall. I strongly recommend staying somewhere else.

Shooting at his youngest Uncle's house

Doodling with Zach's little cousins, keeping them occupied

HUUUUGE german shepherd named Hannah

After a long day had pho (with an egg) with the crew.
It's only day 2 on set…*whew* we have a long week ahead.
Thanks for reading!
Much love friends.