THAI MASSAGE, WAT PHAN TAO, WAROWOT MARKET: CHIANG MAI, THAILAND (DAY 6)
This is day 6 of 20 days in Southeast Asia. Sunday in Thailand—we enjoyed a Thai massage, a walk around Warowot Market, a visit to a beautiful tea house, and enjoyed all kinds of dishes at the night market.
Enjoy!
The rest of the trip:
Start here if you haven't read:
Day 1: Golden Buddha, Yaowarat, Banglamphu
Day 2: Wat Pho, Bangkok National Museum, Wat Arun
Day 3 & 4: Jim Thompson House, Snake Farm, overnight train from Bangkok to Chiang Mai, plus a Thai cooking class 
Day 5: Elephant Nature Park, Saturday Night Market, Nimmanhaemin Road

Good morning from Tri Yaan Na Ros Guest House in Chiang Mai. We slept in a bit after a big day at the Elephant Sanctuary. Zach was really committed to trying Thai massage, so he called around a few places nearby to make a booking.

It's Sunday, and our last full day in Chiang Mai before we head to Vietnam. I had my mind set on checking out Warowot Market, but wandering slowly towards it through the old city and stopping in for a morning massage.

Considered stopping for food at every food cart we passed.

I love the wood houses so much, the rooflines are so beautiful too.

There are so many temples within the walls of the old city, it was sad to whip past them and only check out a few. The massage place was right near Wat Chedi Luang and we were passing by peeking in on our way past.

Pre-massage at Khunkha Massage. Had some warm tea. Zach was pumped. I was nervous. I've only had one massage in my life.

Post-massage. Wow. That…was painful. Zach and I were in the same room divided by a curtain. We had super comfy cotton clothes on and I spent most of the time saying "OW" and giggling with the woman who gave the massage because we were both shocked at how NOT flexible I was. Fun experience. 🙂

We also did the hot stone compresses which felt both terrible and amazing. I'm not the right person to tell you if a massage was good haha, clearly, but it was definitely a new experience for me.

Wat Pan Tao, a beautiful teak wat that was once a palace.

We were confused and misinterpreted the signage and Zach picked up a skirt to wear for respect and then we realized that was only for women to wear but at least Zach rocked it.

The hanging banners had the symbols of the zodiac.

I'm year of the horse (a metal horse to be exact). What are you?

Awesome hand lettering

Donation based on birth day

Zach in skirt in silhouette

Wat Chedi Luang. This complex had a big beautiful complex that we missed most of somehow. I can't recall if it was blocked off and partially closed, or we were just too dazed from the massage to notice we missed the main attraction, a 15th century Lanna-style chedi and stupa.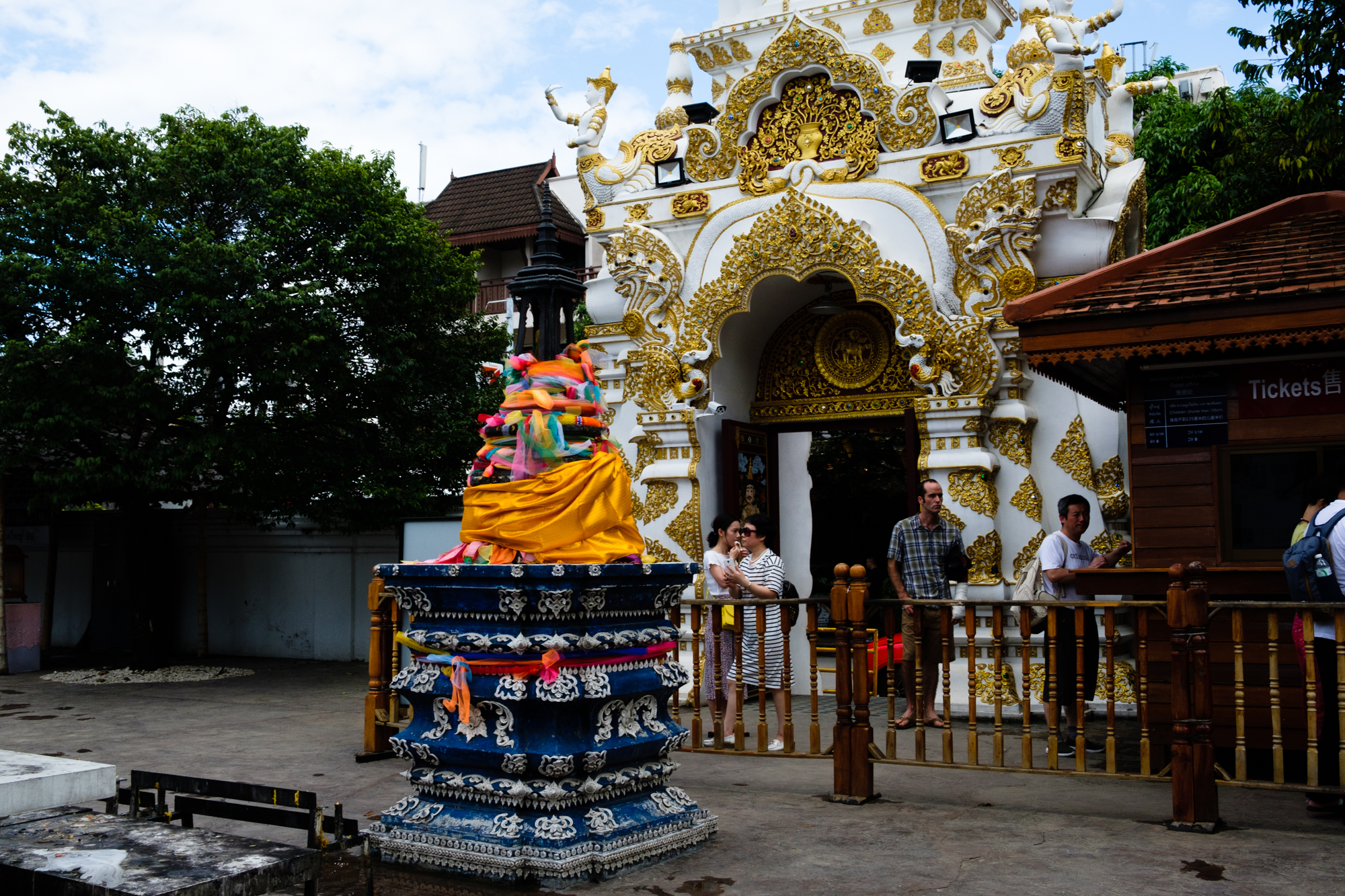 Chiang Mai's city pillar, but women weren't allowed to enter because they menstrate which "ruins the sanctity of the city pillar." True bummer.

Bye, Zach. Have fun in there.

Hanging outside with these little girls whose brother went in.

Dog!

Buddha covered in little pieces of gold leaf.

I love the ceilings, decorated wood.

Zach adding on to the year of the snake

Really annoyed with my past self that we didn't notice the rest of the complex. Rats!

Dropped in the 7/11 across the road for a quick snack. I can't help myself, I love myself a good snack while traveling.

This mansion was owned by a prince built in a hybrid Lanna and European style in the 19th century. Now it has a small gallery that showcases Lanna architecture styles through the centuries.

More of the Lanna Architecture Center

Tha Pae Gate, one of the gates through the old city wall. This is the east gate that leads out toward the river.

Walking out of Tha Phae Gate along Tha Phae Road.

Stumbled across the Philatelic Museum located in an old post office. This museum showcases stamps. I learned that "philatelic" means the collecting and study of postage and imprinted stamps aka stamp collecting.

Made our way into Warowot Market, this is Chiang Mai's oldest public market. I think we definitely missed the popular hours (I'm assuming in the morning) but it was still fun to wander through all the aisles and see what there was for sale.

The art of display is truly a craft.

Zach, attracted to comics in any language.

Food vendors

Hmong goods for sale at the Hmong Market. Interestingly, outside of Asia (where only 5% of the Hmong population lives) the largest population is in the United States.

I read that the Hmong don't have a traditionally written language, so patterns on textiles were used as a form of expression. I looked up some symbols and what they represent—many are animals, plants, seeds, stars, and landscapes.

I got a tiny yellow and pink treasure to add to my backpack. I heard that a handwoven Hmong skirt can take up to 6 months to make. There's a Hmong Village in the mountains near Chiang Mai, near Doi Suthep, and in Chiang Mai there are a few places to buy Hmong art and crafts, included adaptations for tourists like pillow case covers, purses, etc.

We passed by this tea house on our way to Warowot Market, and thought it looked intriguing.

True heaven at Raming Tea House

Fried fish with a side of rice

Satay chicken

Interior of the tea house (also shared with a few fancy shops)

We crossed the river to the Riverside District (is that the official name? Probably not…sorry!)

Enjoying the sunshine and the river.

A beer at the Riverside Bar

The Craft Beer Factory is across the way from the Riverside and managed by them as an extension of their restaurant. My favorite part of going through all these photos that as the day goes on, Zach and I both get more and more sweaty from the heat and humidity.

I can feel the humidity in these photos.

As it got darker we moved outside to enjoy the deck atmosphere.

Now prepare yourself for a lot of food photos. We walked back towards the old city for the Sunday Night Market.

Zach waiting patiently for his BBQ ribs

Sweaty, happy Zach with his favorite thing: dumplings.

Pad thai

Paused to digest and watch a Thai dance performance. And then we vanished back to our guest house. The next day we are attempting to wake up really early to visit What Phra That Doi Suthep, the temple in the hills.
Check out all my "Waldo in Southeast Asia" travel posts including a packing list and planning here.
Much love friends.