MY WEEK IN PHOTOS: SEPTEMBER 28 – OCTOBER 4, 2015!
A flu shot and sunrise work day before heading off for a four day weekend in Austin, Texas! Another year of ACL Fest in Zach's hometown but this time with Aryn in tow!
Enjoy!

Starting the week wearing my new lil' boots I got from Goodwill. I wish it was fall so far. Well, it is. But it's so hot in LA still.

Hey kitteh

Was good and brought my own lunch for once!

Eye balloon, very tempting. I'd put it on my balcony and signal to the neighborhood that I SEE YOU.

Got my flu shot. The room was kind of sketchy, the shot really really pinched, and of course there was a man coughing his lung out in the waiting room… *but I'm alive now*

I woke up to a pretzel that Zach made for me at work using some left over clay and brass dust. Preeeeetty cute, except I'm pretty sure the brass dust swirled into my nose and throat while I was sleeping.

Selfie in the gym, selfie at the Getty. Actually this "mirror" at the Getty is actually just a very reflective window and there are usually people and staff in the other side looking at you taking your selfie…just fyi

Wandering around, photographing for @thegetty instagram

Cute grass dumplings

Worked a lil' late, and suddenly I was alone in the parking garage T___T

Me 'n Kiki as eggs

Kiki was in Chicago for the last 5 days or so, so we're doing our 2nd post-Chicago "meat up" at Tender Greens for steak steak steak

Sittin' on the same side practicing for our wedding day

Watching Kiki buy lush but hurting inside that I can't use it anymore *please eczema clear up please!!!*

Tuesday night, attempt to throw together clothes to pack for Austin

Arrived to work a little after sunrise so I could get a full day in. (Leaving a lil' early to catch the flight to Austin)

So beauty!

Curried cauliflower and potatoes…so yummmm

I asked Zach to meet me on the street with my old crockpot…ahahh

LAX!

Managed to get my greasy hair into a braid

Bye LA

Made it to Austin! *Sleepy*

Sensual moments in what we hoped was a cash cab…but is actually just an uber driver with the heart of a club kid

ARYN IN AUSTIN!!

At Magnolia's Cafe, we come here every time

Little clothes rack was set up! I decided to unpack for once.

Good morning, Texas! We're here for ACL Fest, but have all Thursday to just explore.

Zach checkin' on the bees

Pieta

We all took turns driving the boat!

Lovely day, not too hot (yet!)

*SKUNK*

Fatty brisket, jalapeno & cheddar sausage, garlic sausage, green beans, and potato salad!

And of course shiners!

Went to Barton Springs (last time we only went to the dog park area) but alas…CLOSED ALL DAY FOR CLEANING??!?!

Well it is a natural spring, guess it needs a little de-algae help

So we went to the other side to the dog park area again

Aryn decked out in her cutie vintage swim suit. We went in the water for a bit, played in the current. It's really slippery out there. (And FREEZING)

You can actually see somebody falling in in the background…haha so slippery

Gotta have snow beach after! Zach since he was a kid says he always gets half cherry half black cherry with the condensed milk

Peter Pan putt putt after…was a hard game to finish. It was so hot and none of us were very good…

Finding air conditioning and other treasures at Uncommon Objects! It's an antique store that's truly like a big curiosity cabinet. Many things are vintage and expensive, but it's fun to look around.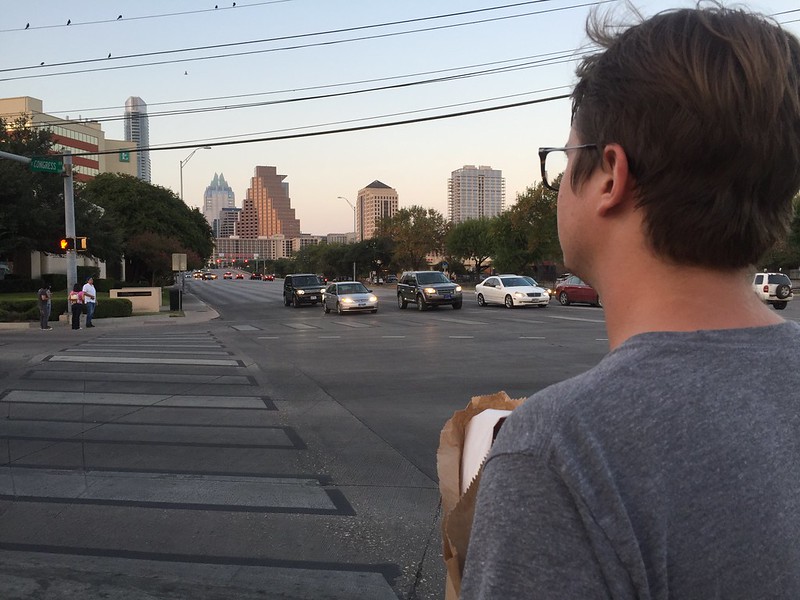 Walking over to the South Congress bridge to see the infamous Austin bats. 1.5 million bats take off at dusk for the evening to hunt. Here's a video I found on YouTube of the bats at a duskier hour (you can see them better). We waiting nearly an hour and they came out when it was dark. Still cool!

Everybody waiting to see them

It got darker and darker and finally they came out, but yeah, it was hard to see! Oh well!

Good morning, Austin! First day of the festival.

The next morning we met a snake!

Cute little beauty owned by Zach's friend

And off to the fest!

Wearing the sunhat my mom got me…haha

❤ Pizza

Nerd

An evening with the Foo Fighters

Okay – yeah – bad photo. But Dave Grohl has a cast on his leg and they built him a rock and roll chair on a track that moves forward and backwards…it was so silly and awesome

Orion's belt (in sculpture form)

Walking into the festival day 2!

At the United Nations

From the Mighty Cone…yummmm fried chicken in a cone

Best view in the house

A rare sight of no lines at the toilets

Watching Aryn loooove Drake was my festival highlight for sure

Also got these little bandanas, dust protection. We were all getting pretty cough-y/sneez-y from the dust.

Dead zombie legs.

Sunday morning we ate my favorite queso and texmex from Torchy's

Went out to find a rope swing Zach knew about on Lake Austin

I never really grew up as a water person so various fun lake activities are very foreign to me. BUT, I did conquer my fear and did the rope swing (we had to swim over to the swing, and yes – swimming in lakes is another fear of mine). My arms were so sore for days after.

Day 3 festival means sleeping in a hammock

The Strokes! Who didn't give a shit about playing haha

And that ends a sweaty weekend in Texas!
(Sorry this was so late – I've been doing an extra leadership program this week…)
Much love friends.