MY WEEK IN PHOTOS: MAY 4 – 10, 2015!
A weekend full of family love in celebration of Mother's Day. Lots of activity at work (including some Game of Thrones and medieval art luvin') and a Barbara Kruger installation.
Enjoy!

Arrived at work at 7 to document the installation of this project, a collab between Barbara Kruger and 400 LA students

Balance skills

Entrance hall emptied

Eatin' my mango chili lollipop

Arrived home to a mysterious package!! AND LOOOOK!

With Zach location scouting for Alan's next dance video

Hopefully it looks as pretty as it did on scout day!

Long shadows

Grabbs brought over Russ for puppy play date.

That sploot

Swirly cloudy day

Adding to the cheesy museum show mug collection

Getting used to wearing my yoga pants at work on my way to pilates.

Designed/printed Mother's Day cards using the collection

Stayed too late for these dumb cards. Eyes hurt.

Yay!

Leaving close to sunset…bleh

GARLIC SAUTEED MUSHROOMS.

Thx Zeen

First draft of logo and poster done!

Left work a bit early, felt sick all day…was worried I was coming down with something. Slept for like 14 hours.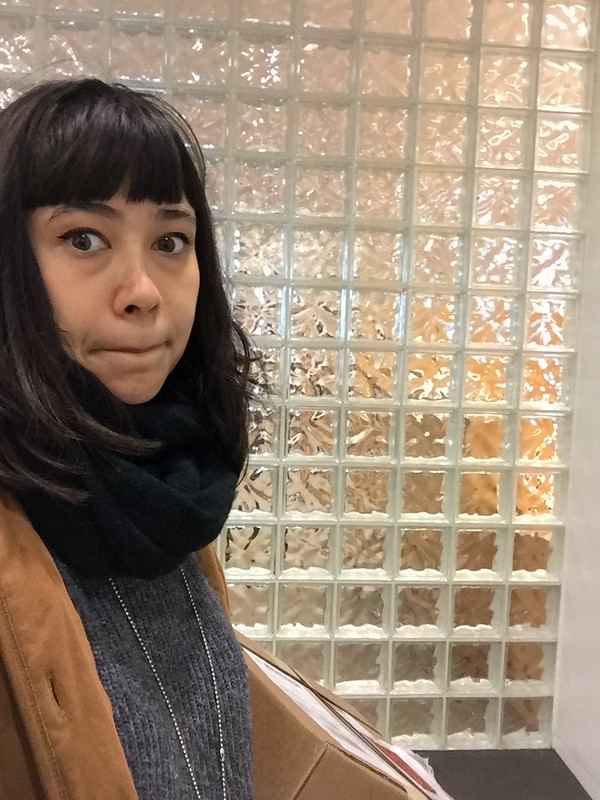 Feeling very very rested the next day

It's interesting reading the visitor responses to the Whose Values project. I hope this person's gf makes a full recovery too.

Wall might need some pruning soon!

Made my mom a Mother's Day card…keepin it simple this year

Since we're on our way to Zeen's family's beach house that they generously let my whole family come stay at!

When it's cold but you wanna wear shorts cuz you're at the beach

Parents have arrived first! And as moms do she immediately made me a sandwich

happy Mother's day weekend! This weekend is for you! ❤

Parents wearing their matching hats to go on a beach walk

The newest of my lil' cousins

So sweet to see the most scaredy cats of cousins have fun in the water

Appreciating art!

Tackling our first 1000 piece puzzle

I always forget that bunk beds are the coolest for little kids

Playing hide and go seek…I see you…

Coming along

The popcorn bag is just as big as her

Yoko having a blast

How can you bear the cuteness!!!!

Check out the article! So cool to see my name attached to a project for work…(usually us media producers don't credit ourselves for work)

The hard part now

Everybody getting under sand

More family arrives!

The next morning we got up early to go on a sea glass hunt

Not zombies, just looking for sea glass

My auntie's dog looks like Tweedy!

The morning's haul

We found a dead seal and some bones (ew) that my little cousins picked up without us noticing (ew) so they decided to hold a proper burial for the seal…(aw)

WHY ARE THEY SO WEIRD AND CUTE

Playing "bang"

Poor blind Yoko

Dogs for all

Chili dog and watermelon, yeah summer come onnn

Watermelon luvas

LACIE

Put on the wetsuits for a romp in the pretty cold ocean

Day 2 and the second puzzle is out

COCO

Coco has one eye and is the best

It's so fun to have the house full of family, everywhere you look cute memories being made

Beach walk with my dad and Zeen

Zeen!

Dad!

Giant sand wall

Sunday morning, our last day here! 😦 It all went by too fast. Starting off with more "Bang."

Obsessed with my aunt's dog

He loves me

unison

It's actual Mother's Day! Love you, ma.

Bein' a family

My dad is usually leading the pack, but he's way behind really looking for seaglass

Cutie pootie

My awesome avocado sculpture

THAT'S A SEAL!

Yeah, I must admit I cried a lil' after it was all over. It was just SO NICE to be in a house with my family for 3 days. Full of laughter, little cousins, jokes, food, love…sigh. What a great environment to be in. So appreciative of my family.

Driving into the sunset on Sunday
Much love friends! I'm so behind on things because I've been using my spare time to help Zach with designs and promo for his show…sorry! I have more Chicago and videos coming up.