This is Wednesday, August 13, 2014!
Tweedy gets another bath, I drag James to Mitsuwa, curry and spam is had by all, and I fall asleep on the couch, all on my day off. Ooof. Enjoy!

I woke up and decided to run and grab le camera cause why not.

Where is my phone? Ah, 9:30. I love sleeping in on my Wednesdays off of work.

Crazy bed head but feelin' alright with my coffee in hand in my patio nook.

Pups join me for some terrace time.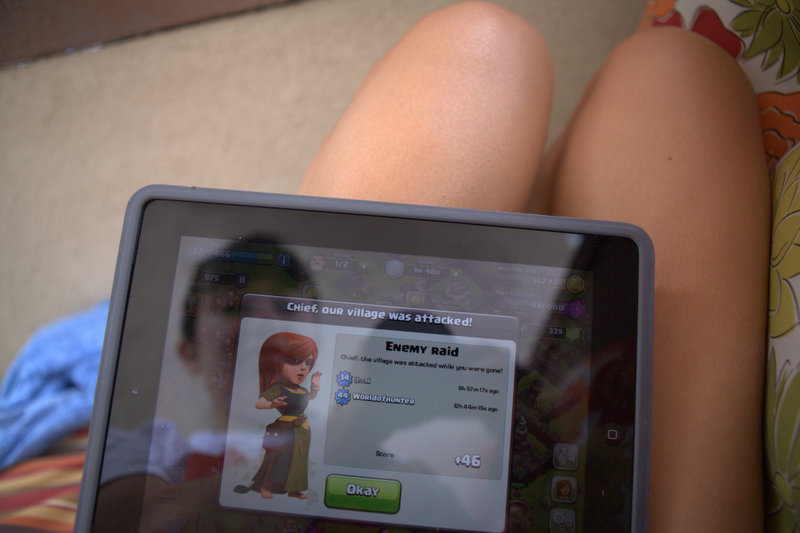 Hehehhe. You guys, I joined a Clan. I suck at it now. I think I'll quit the clan and be rouge again.

Sooo since it's my day off work, and I've been exhausted getting back from San Francisco…it's only right that first things first are updating the weekly post. My time at Outsidelands can be found here!

I hear a banging on the door – naturebox is here for the month!

I grab a late morning snack. Kiki pointed out that it's weird to have this so early in the day. BUT WHY?

The post is live!

Somehow I find myself here…and along the way James texted me wanting to hang out. I might suggest a sandwich place…

SMOOCHIES

But it's that tiiiime of the morning!

Where the pups sniff EVERY rock, tree, stick, piece of poop etc in the neighborhood

He's a proud lion

Nobody is around so I let Tweedy off his leash. He's a good boy!

I run into a little girl in my neighborhood. She's very friendly. And really wanted to take some photos…here they are. She also took some selfies (which with a huge lens and heavy body that is my camera…is impressive)

Shark Week oh ha ha.
This was such a stupid program. I hate Shark Week but I let it sit in the background….I'm part of the problem! They set up an "experiment" that the show itself had to disclaimer "THIS IS NOT A REAL SCIENTIFIC STUDY" to see if the shark would go for a human hand on a stick or a fish head on a stick. It was the fish head. T__T
Thrilling.

Today I'm making dinner for Kiki and Gabby because they watched the pups while I was in SF. I stopped at Mitsuwa the night before, here's my loot. I'm realizing I might want a second curry…hmm

For both of us.

MUPPET TWEEDY. IS HE REAL!

When Tweedy is wet his favorite place to sit is on the couch or on computers and hard drives. Go sit outside.

*IT'S HOT* UGH.

Brush brush

I set up shop to work on layouts for Zach's sister's business. I don't mind staring at her gorgeous designs and weavings all day. She's like mega talented and so kind.

She weaved these two pillow cases (one that the dogs started to ruin) and this blanket! All from yarn spun from sheep that she raises herself.

The sheep!

You can't barge in without first getting a cuddle

Photos upload to the book making site…taking forever…

Meanwhile James arrives! He has officially moved from Orange to LA! Hooray!

Yeah, I know I mentioned sandwiches…but I'm becoming obsessed with the Mitsuwa food court.

I've never tried this booth before…but I noticed they had a tempura egg…

I got my udon first, sorry James. He has to glare at my hot lovely meal…

I convince James to get tendon with soba. I want to see his face as he tries it. Yesterday I woke up KNOWING I wanted this exact tendon and I thought about it all day until I went to the market.

James approved! We did pretty good.

The best part about Mitsuwa is now you just walk over the grocery side. I bought some fixings for the curry, as well as more of my everyday snack.

Oh the scenic streets of West LA….

He's just a ball of hyper energy whenever people come home

Sufi is unsure about his whole existence.

Then while we wait for it to approach dinner time I work more on the layout.

Time to bust out my new rice cooker (semi-new? I got it over a month ago I think).

I prepare to cook. On the menu? Miso soup (nah, not from scratch…), curry with tofu and veggies, and spam musubi!

We were watching more episodes of Mind of a Chef, including one about gluttony. David Chang tries Pappy Van Winkle bourbon from the barrel, so we had a bit of old Maker's…SAME THING RIGHT. I let James enjoy.

Back to werk!

Tweedy whips up the veggies to simmer.

Oooooh chiiiiild, things are gonna get easierrrr

1, 2 and 3! So simple. 🙂 SO GOOD.

The curry is ready too! But peeps aren't here yet.

Kiki has arrived!
Everybody's having a stressful day of work. Bad juju in the work world.

But the day is bright!

Gabby is head up at work, so we go ahead.

Not bad! I've never made curry before, I'm pleased with how it came out.

Gabby arrives! And shows ET something on her phone.

5 contains of leftovers. Unreal.

*Cut to hours later* I've been working on the couch. It's time to try my pickle snack I bought in Canada months ago.

Hm. It's sour! That's for sure.
And this is when I returned to the couch…
And fell asleep until like 2:30 AM. A true food coma.
Apologies!
Much love friends.